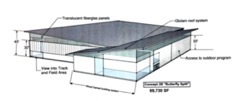 SALEM, Ore. – This morning Representative Greg Smith (GOP-Heppner) was successful in securing $9 million for development and construction of an Eastern Oregon University (EOU) Fieldhouse.
Smith was able to obtain the funding through an amendment to Senate Bill 5702, the 2018 Bonding Authorization Bill. Smith serves as a member of the Joint Ways and Means Subcommittee on Capital Construction where the bill was considered. He also serves as the Co-Vice Chair of the Joint Ways and Means Committee which oversees the entire state budget.
"Eastern Oregon University is our rural university," stated Smith. "This facility will help recruit and keep our Eastern Oregon athletes and youth in Eastern Oregon."
A new fieldhouse will support EOU's Athletics, Physical Activity & Health Degree program, and Outdoor Recreation & Leadership program. It will provide space for indoor track and field practice, an exercise lab and instructional space for the Physical Activity & Health Degree program, winter weather practice for outdoor sports, and support the re-introduction of a historically successful wrestling program. Student-athletes are currently forced to use off-campus facilities for practices and activities due to space constraints. In addition, the off-season use of EOU's grass fields have led to increased field maintenance. Furthermore, the newly added men's soccer and wrestling programs have pushed Quinn Coliseum beyond its capacity.
The fieldhouse will support intercollegiate, regional and statewide athletic events as well as conferences, concerts, and trade shows. Also, the completed project will benefit local and regional businesses with an otherwise unrealized revenue stream through the University's additional activities.
SB 5702 will proceed to a vote where it is expected to pass and be signed into law.
https://repgregsmith.com/wp-content/uploads/2018/03/7cb672_d042a44150b3460cb935e16e77896bccmv2.jpg
101
239
admin
https://repgregsmith.com/wp-content/uploads/2022/03/gregsmith-logo.png
admin
2018-03-15 20:37:35
2022-03-30 20:38:21
Representative Greg Smith Secures $9 Million for Eastern Oregon University Athletics, Physical Activ